The Egyptian Event, 2014 Made History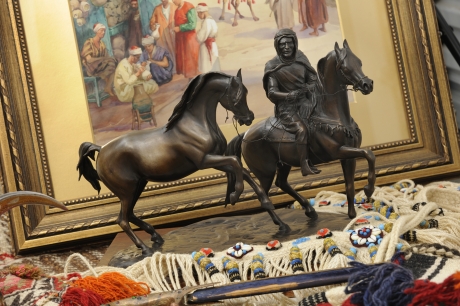 The Egyptian Event, an internationally renowned week-long celebration of these magnificent horses, was held by The Pyramid Society in Lexington Kentucky, and boasted halter and performance competitions, expert-led seminars, exciting auctions, a gala fundraiser and much, much more.
The 34th annual Event took as its theme, "Gleannloch Farms: The Legend and the Legacy." It saluted the immeasurable contributions of Douglas and Margaret Marshall, their unique and influential breeding program, and the unparalleled success of Gleannloch horses under the guidance of Tom and Rhita McNair. Though it is 20 years since Gleannloch Farms passed into history, the impact of the Marshalls and their Gleannloch legacy still resonates today.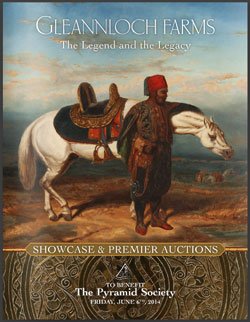 This year, all of the Egyptian Event Showcase and Premier Auction items were a gift to the Pyramid Society by the Marshall Estate from their personal collection at Las Palmas, their magnificent Moroccan-inspired ranch in Barksdale, Texas. This extraordinarily generous gift resulted in two simultaneous auction events that held all the drama, history and excitement of the Gleannloch story. Through this donation, the Marshalls' legacy of giving, and their life-long commitment to the Society, shall live on.
The Pyramid Society also published a colorful and detailed tribute book about Gleannloch Farms and their remarkable legacy.
For further information please click links below:
Egyptian Event Photo Highlights
Egyptian Event Premier Auction Highlights
The Showcase & Premier Auctions On-Line Catalog